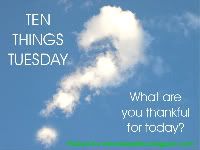 Happy Tuesday! This past Sunday in Bible class we talked about being thankful and how we are not thankful enough. Even with this weekly post (that sadly I haven't done each week), I realize I have loads of other opportunities to be thankful that I miss.
We also talked about how often we are not thankful enough for the people at our churches, so that is what I am going to write about today, the people and circumstances at church that I am thankful for.
1. Our friends that we have made since moving here. 95% of our friends are from church and I am so thankful that we have made deep friendships.
2. I am also thankful for the friendships that Nora is making at a young age. When we tell her it is time to go to church on Sunday mornings or Wednesday night, she will immediately say, "Ava? Sterling?" If we press her on who else she will see in her class, she will list several names.
3. Speaking of Nora's friends, she loves her friends from our home Bible study. She loves "Bibson" and "Jo Dad", and more recently, Ellie. She is also so excited on Sunday nights to play with them.
4. One of the biggest reason I am thankful for our church is our home Bible study. We are going on our 3rd year of being a group and I have made lasting friendships with the other couples. We have had several families come and go, but the "core" is family to us. We are prayerful that we can add one or two other families and grow with them too. I look forward to Sunday nights because it is a perfect beginning to a week for me.
5. Mommy and Me. I love Thursdays!!!!! It is nice to get out of the house and interact with other moms and let Nora run around with other kids. I also love Thursdays AFTER M&M because Nora usually takes super long naps :).
6. The
preaching
7. Opportunities to get involved. This has been a blessing for Matthew and me. The church we went to before we moved here had many, many, many involved and we did not do a good enough job of trying to find an area to get involved in. When we moved here, we were thrown into "involvement" head first. It has been wonderful because we have been able to meet so many people and hear so many different stories. It has been nice serving our church.
8. In Sunday school, a different couple brings snacks each week. I am so thankful when it is not my week. It always tastes better when it is something brought in or made by someone else. (Although, this past Sunday, I didn't partake because of WW...sigh).
9. Going along with number 7, I am thankful for all of those that serve our church. I don't want to make it sound like Matthew and I do SO much. We honestly could do so much more than we do. But there are many who practically live up there making sure that every little thing gets done. It's the "behind the scene" people who I am thankful for.
10. I am thankful that we have been challenged, weekly, to grow in our relationship with Christ. Whether that challenge comes from the pulpit, a comment in class, a conversation from another member, in home Bible study, or in a talk that Matthew and I are having, I am thankful for the challenge.
So, there you have it, 10 reasons why I am thankful for Southside church of Christ.