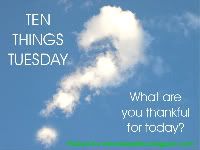 In honor of Elyn's 6 months of life, I am going to list 10 reasons I am thankful for and about Elyn.
1. I am thankful she is so healthy. At her doctor's appointment yesterday, she weighed 14 pounds 2.6 ounces (11th percentile), she was 26.25 inches long (58th percentile), and her head was 42 cm around (29th percentile). We like to keep our babies on the smallish side.
2. I am thankful she is so active! She is constantly moving and rolling and turning. I am sure I might be less thankful for this once she is a toddler, but right now it tells me she is on track developmentally.
3. For the sweet way she wakes up from her naps and in the mornings. She lays in her crib and talks to herself to let me know that she is ready to be picked up. When I go in and get her, she makes me feel like a rock star. She smiles at me as if to say, "Yea, my favorite person in this world is finally here!".
4. Elyn is very tolerant of Nora. That is a blessing because Nora loves to "love" Elyn. Loving Elyn includes tickling her (roughly scratching her under the arms), hugging her (squeezing her neck and cutting off her circulation), kissing her (slobbering on her face), putting her paci back in her mouth (shoving the pacifier in her mouth HARD), and patting her (a small version of a spanking).
5. When Nora is being "two", Elyn doesn't let it bother her. She is extremely laid back and doesn't get upset by very much. The only times she really does cry is when she is tired or hungry...or lately, when she wants me. (Notice in this picture and the first one, she is trying to sit up. She does that ALL THE TIME. She is going to have some awesome abs!)
6. She is doing a great job with the transition swaddling we are doing. She is a pro at sleeping with one arm out. She is actually doing such a good job that I am a little nervous about going to two arms.
7. Speaking of sleeping, she is waking up TWICE a night now to eat. That might not sound like something to be thankful for (and it's not), but I am thankful that once I feed her she goes right back to sleep so I can too. I'm hoping she is just going through a growth spurt and will start sleeping for longer stretches again.
8. Elyn's facial expressions. That girl is expressive! I love her smiles and funny faces. One of her new favorites is to smack her lips and stick her tongue out. So funny!
9. She is cutting her first tooth and it doesn't seem to be bothering her! That is something to be truly thankful for! The only indication that she is teething is her need to chew on everything.
10. I am thankful that Elyn is her own person. I learn something new each day. She is so sweet and I can't imagine not having her. I can hardly believe that it has been a half of a year since she was first placed in my arms. I am excited to see what the second half of her first year brings.
We are so thankful for you Elyn! God has blessed us with you!