Wow, it's been awhile since I have participated...here I go: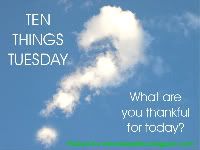 1. I had a nice run tonight. It has been forever since I have run on the road. The treadmill has been under my feet most of the time. The weather was beautiful and I didn't die...always a good thing.

2. I started working on Elyn's first birthday invitations today and I think they are going to turn out okay. I can't believe she is ready for a birthday party!!!

3. A new semester. I started teaching again last night. I didn't make too many mistakes and I think my students are excited.

4. Lunch with Matthew. We went to eat lunch with Matthew today. Nora was so excited! It is always a nice change to our routine.

5. All-ready prepared dinner. I made some taco chicken last month and froze half of it. This afternoon, I got it out of the freezer, let it thaw, and viola!, I barely had to cook dinner.

6. Nora's imagination. Tonight at dinner, Nora told me that her dog (her invisible dog) was under the table. I asked her what her dog was named and she told me, very seriously, "Floppy". A few seconds later she informed me her cat was also under the table. Her cat's name? Full. Hahahahahaha!

7. Elyn has decided to stay a crawler, and for that I am thankfu! I'm not ready for her to grow. She takes steps, every now and then, but she prefers speed crawling over walking.

8. A fixed camera. My camera was acting up last week and I took it to the camera shop for them to look at. Apparently, I have using it tremendously...way more than the average picture taker. I didn't think I took an abnormal number of pics, but the "expert" at the store told me that my battery was all used up. THANKFULLY, he gave me a new one for free. I suppose he knows I'll be back in a few months for another and he can charge me then.

9. Reading. I have gotten to read several books in the past few weeks. I love to read and it is so nice when I have some quiet time.

10. Matthew, Nora, and Elyn. My favorite people and I am so very thankful for them!